First of all, we were featured on
Craft Gossip
for the
pillowcase pj's
from last week. So we are very excited because this is the first time we have been featured on Craft Gossip.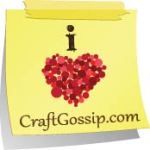 Ok last but not least...... I am competeing in a competition for upcycling called Project Recycled. So here is how it works.... Every Monday starting the 30th Robin from
thetshirtdiaries.com
will post all the contestants projects and then you will vote for your favorite! (and I hope it will be mine!) Anyway it's going to be a lot of fun and I will keep you posted on how it goes. I am very suprised and honored that I was chosen to be one of the contestants.