I found this bright blue with white polka dot fabric and I knew immediately I wanted to make some pants for my little Julie.
I made the pattern with a pair of pants that fit a tiny bit big, its summer so we aren't wearing many pants so I am hoping these fit for a while.
I laid the pants on freezer paper, traced them and added seam allowance. Cut the pattern out of the freezer paper and then I can keep that to use in the future. I made this pattern piece only just below the knee and a separate piece for the flared out bottom.
There is my pattern laid out on the fabric. Below is the bottom piece of each pant leg. The top shorter side should be the same size as the bottom of the pants where they meet.
Here is how I attached.
The flared piece inside out, pants right side out and sew around.
For the waist band you could make a casing and use elastic or do a yoga type like I did, basically cutting a strip of fabric so that its about 1 in shorter than the waist measurement and attaching to the top. I would try them on before adding the waist band just in case you need to add a dart to the back.
Hem the bottoms and you are done.
I hope you like them! I actually made a pair for myself too, but I am not sure I have the guts to show you the picture... I may have used pink tie dye fabric.... lets just say I don't leave the house in them! Super comfy though :)
Also, there is a new linky party called WKWW (What kids wore Wednesday) I am linking up there today and I encourage you to do them same or see what other cute kiddos are wearing.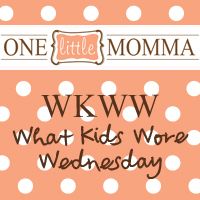 Have a great day everyone!